Bill Counters


Counterfeit Detectors







E System Sales, Inc.


32204 Castaic Rd P208
Castaic, CA 91384
(800) 619-9566
(661) 254-2228
Contact Us

Store Counter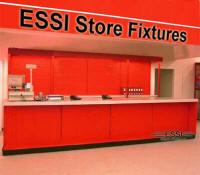 As pictured above you can configure a complete counter system from front to back using Gondola Shelving in most any size, shape or configuration that can be interchangeable with all of the Gondola Shelving through out the whole store.
Island Countertop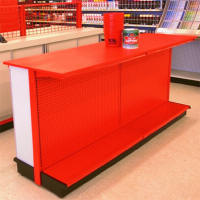 Island Counter Top can be configured in most any size and dimension using the typical double sided gondola shelving. The island counter provides storage on the inside and merchandising or the display of impulse items, such as: candy chips, drinks, and more on the outside.
In fact you can configure your whole Convenience Store with Gondola Shelving for everything form your chip displays to your newspaper and magazine displays saving you money as all of the hardware used to configure Gondola Shelving is all the same and once again interchangeable. Gondola Shelving can also be configured for counter systems that need to run in a 90 degree angle. Gondola Shelving can also be configures with back lit canopies.
As you can see in the first image above, merchandising solutions can be installed in front of the counter or in back of the counter as shown above with the candy cigarette displays shown in the image above.

This very top first image is a counter system that is 12' long with a wall gondola aisle that is 12' long also.

This webpage contains useful information, affordable pricing, and online sales about Convenience Store Counters configured with Madix Gondola Shelving that can be as long as needed, can be configured with corner sections to meet the needs of most configurations

Wood construction with top surface and edgework finished in choice of laminates. Available in widths from 8" to 48" and lengths up to 8' in one piece.

Longer countertops are joined at job site by combination dowel and "tite-joint" method insuring a smooth surface. Brackets are not included. One pair required for each shelving section.

Gondola Countertops are great for Convenience a Store, Gas Station, or Liquor Store cash register counter that will also display small products such as Candy, Beef Jerky, Potato Chips, and also Counter Spinners on the top of the countertop.

Countertops can also be mounted on to the top of regular store shelving and the countertops are not proprietary to our shelving. This means you can use any type of countertop and mount it right on to the top of any existing Gondola Island Shelf.
Countertop Styles
Three different countertop types available.
Flat (CTS), single edge (CTO) and double edge (CTT).
Countertop Brackets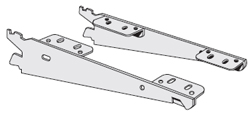 A heavy gauge bracket specially designed to support countertops shown above. One pair is required for each side and section. Order brackets 2" shorter than convenience store countertops.
Island Convenience Store Shelving

The picture above depicts a 8' double sided gondola configured with two sections and one end that includes: all the trim pieces such as front kick plates, base shoe covers, and upright covers.

The double sided sections are designed to be placed in the center portion of the merchandising floor and can be used to separate the store and aisles.

We have double sided sections available in depths as small as 12" and as deep as 30" with heights that start at 36" up to 96". Floor anchors are suggested and available for all heights above 48". Check with your contractor, city and county building codes.

Standard Coatings


| | | |
| --- | --- | --- |
| Oyster | Sahara Beige | Satin Black |


Non Returnable Coatings


| | | | |
| --- | --- | --- | --- |
| Blue Gray | Chocolate | Dove Gray | Dover White |
| Fashion Gray | True Gray | Skyline Gray | Snow White |


Optional Non Returnable Coatings


| | | | |
| --- | --- | --- | --- |
| Bright Orange | Burgundy | Hollyberry | Hunter Green |
| Mandarian | Neon Blue | Yellow | Spectrum Blue |
| Spectrum Green | Spectrum Red | Valencia | |

Countertop Laminate Finishes

Natural Maple

African Limba

Chicago Blues

Kingston Maple

North Sea

Natural Pear

Amber Cherry

Golden Oak

Spectrum Green

Wire Shelves for a Convenience Store

Heavy gauge steel wire construction, powder coated for long life and extra wear constructed for Potato Chips in a Grocery Store, Candy, Bed Linen, and more.

Freestanding Wire Binning System Front Fences and Dividers for Store Shelving allows the flexibility in merchandising of smaller and lighter products. The fences and dividers for store shelving have welded on "feet" for attachment to shelf perforations on upper shelves. Fronts and Store Shelving Dividers may be used independent of one another to divides a shelf into sections of bins.

Vertical wire are on 1" centers. Chrome plated finish.

Walk In Cooler Shelves

We have available Cooler Shelves. What we need to know in order to provide you an accurate quote is basically the size of the door and the depth of the shelves that are needed.